CCTV Cameras & Surveillance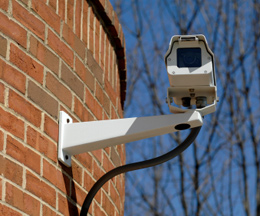 Want to know what's going on at your business, even when you can't be there? Dynamark offers the latest in video surveillance, allowing you to watch LIVE video of your property from anywhere you can connect to the Internet.
CCTV: We can install the latest in closed-circuit television video cameras in your business, giving you the power of remote viewing.
DVR: A Dynamark-installed Digital Video Recorder lets you record hours of video to review at your own convenience.
Watch Your Business From Anywhere, Anytime
Watch live video from your cameras via TV, PC, or mobile phone
See your cash register or POS in real time
Browse your archive of recorded 24/7 video footage
Security Control On Your Mobile Phone
We can give you access to streaming video from all of your security cameras via your Web-enabled cell phone. As long as your phone can access the Internet, you can view live video, recorded video, and receive instant alerts if any motion-detecting alarms in your business are triggered. Your cell phone can even act as a virtual keypad for your security system, granting you complete remote control.